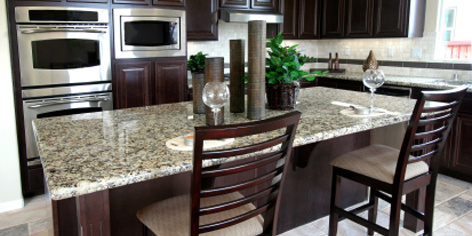 California Countertops - Free Estimates
Serving all of California
California Solid Surfaces connects you to the top experts in countertop repair and restoration for a wide variety of countertop styles and brands. Our countertop professionals have years of experience focusing on countertop restoration and modifications and this service is available throughout California. They are pre-screened professionals with licenses and insurance. Fill out our easy to use form and find out why we are California's top choice for countertops.
Am I entitled to free repairs for my countertops?
Is your solid surface, granite, or quartz countertop less than one year old? If so, the material and labor may still covered under the CA state mandatory warranty requirement. Contact your contractor for more details or inquire at the California State Contractors Licensing Board for more information.
If your countertops were installed less than ten years ago it may still be covered by the material manufacturer's warranty. Most solid surface producers offer some length of warranty. Some warranties can last up to fifteen years or more! Consult your countertop manufacturer for further details.
Recent Projects
I need to replace a kitchen coutnertop.  Dimensions: 61 inches long - 25.5 inches deep w/back splash - This is for a rental so I am interested in a low cost, durable replacement. Fountain Valley, CA
We had a kitchen island installed and need a countertop for it.  We would like to the countertop to be silestone and would also like a quote for future work on our countertops in the kitchen.  The kitchen island is our top priority as we need to have a countertop installed so we can start using it. Huntington Beach, CA
Install new solid surface countertop.  Granite / Cesarstone / Silestone.  Not sure which one to use, and stay within budget. Counter top 181 inches, with undermount sink.  Plus 85 inches bar top (24\" deep) and an additional counter space for 24\" counter, and 30\" counter on either side of the slide in range. Big Bear Lake, CA
looking for quartz roughly 75sq ft installed with bullnose edge. Lancaster, CA
Granite countertop replacemant of approximatly 19.13 Sq. Ft. Please contact through email; can fax dimensions if necessary. Los Angeles, CA
Kitchen granite countertop. Seam in front of and behind sink has seperated. Each seam in about 4\" long, and one side of the front seam is raised about 1/16\". Would like estimate to repair seam and reseal beneath front countertop under sink where small amount of adhesive has erroded. Also re-silicone rim where sink and countertop meet. Stanton, CA
Hello!  I need two new bathroom countertops fabricated and installed with two new sinks. The main bathroom is newly tiled with porcelein and glass tile accents.  The second space (counter and sink in a jack and jill bathroom) will need a new counter to match. I would like to look at Formica samples in the rooms to match the new tiles. Is this doable? Main counter is about 10 feet, guitar.  Second is 6 feet, retangular.  Smooth modern bullnose, no backspash.  Nothing fancy. Huntington Beach, CA
We're currently renovating our backyard and would like to put a stone cap countertop on our built-in grill.  We'd like a quote on doing granite or quartz.  Thanks. Irvine, CA
Formica top with two eighjt foot counters one sided and one eight foot bar top, two sided with a four foot return El Segundo, CA
I have a 10 year old granite countertop over-sitting my kitchen sink.  a crack has developed along the part in the front of the sink and it is growing.  Is there a way to fix this and stop the cracking? I'd appreciate a response.  Thanks. Manhattan Beach, CA
What is the price to install a 61 inch single sink granite vanity top including undermount sink and plumbing hook-up? Thanks Long Beach, CA
I need to replace my kitchen countertop.  I believe I have amount 28 sq Ft of countertop Long Beach, CA
Silestone Quartz Slab Carmel Rhine Honed 54x120  2 CM - Fabricate, Install Long Beach, CA
Could you give me a quick quote to install 2 approx 8 ft slabs of granite including removing tile before installation and changing sink?  Make this estimate based on an average granite selection please Newport Beach, CA