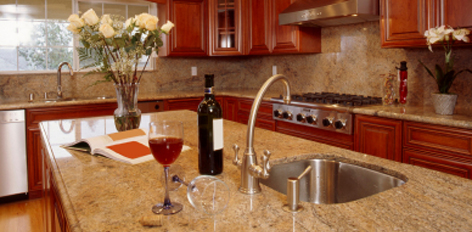 California Solid Surfaces - Countertop Installations
Serving all of California
California Solid Surfaces is southern California's leader in countertop installation and restoration. Our professionals install new solid surface countertops, new quartz countertops, and new natural stone countertops. They have extensive experience with all types of countertops. With over 25 years of experience in countertop fabrication, installation, and repair, you can trust the name of California Solid Surfaces to help you get the job done right.
Commercial countertop installation
California Solid Surfaces provides countertop installation services to local businesses and commercial properties across all of southern California. Your place of business needs to look its best so your business can be its best. The experts from California Solid Surfaces have installed and fabricated numerous countertops for local businesses in California and they continue to install the finest and freshest styles of countertops on the market today. Let our trusted professionals install your new commercial countertops. They can also keep them looking new should they ever need restoration or repair. We are your one stop shop for commercial countertops for anywhere in California!
Residential Countertops - Kitchen and Bathroom Countertops
New countertops are the most cost effective thing you can upgrade to enhance your kitchen or bathroom. Most home appraisers will tell you that spending money in your kitchen and bathroom is by far the highest return on investment you can make in your home. A beautiful new countertop installed by one of the pros from California Solid Surfaces will make your kitchen or bathroom countertops the highlight of your home.
California Solid Surfaces offers the finest in home countertop installation and residential countertop installation services. Trust the experts at California Solid Surfaces to install your new kitchen and bathroom countertops today. You may request a free quotation by filling out our easy to use form
.
California Solid Surfaces is committed to providing quality customer service. We want our customers to feel great when our job is through. We know people appreciate the fast, free service and the quality of the results. This is why we keep you, our valued customer, at the forefront of all that we do. As we move forward, we will continue to focus on delivering great customer care with affordable countertop solutions. Thank you for choosing California Solid Surfaces.